by Willie Lagarde
It was in Monterey Park CA about 10 AM on Sunday morning in mid June 1943 and the last day of a 72 hour liberty from North Island NAS. I had spent the night in a bowling alley where the management was kind enough to let me sleep in one of the spectator couches. I freshened up in the men's room before stepping out on the street with my overnight bag to decide where I would head next. Usually on occasions like this I would look for any military establishment and more often than not after presenting identification and liberty or leave verification would be allowed to crash in any unused bunk in their receiving barracks.
While standing on a corner a car drove up with a man and woman probably in their late fifties and a twenty something year old girl who turned out to be their married daughter. The man got out and asked me if I would like go with them for a home cooked meal. In those days, the people I met in California were very solicitous and generous to military men but I usually declined invitations like this as well as those from church groups. I knew they had good intentions but often they were more interested in saving my soul at a time when I was hell bent on losing it. This time because the daughter was very attractive and I didn't know she was married I decided to accept the offer.
We drove to what I would call a hilly but affluent area where their house was three levels built on the side of a hill with the garage at the top level. First time I had ever seen anything like it. Besides the three people in the car there were two other older women in the house who were so attentive I was getting uncomfortable and had I known how to get back to town would have excused myself and left. I'm stuck and will just have to wait for an opportune time to leave. All this time the girls husband never did show up and no one mentioned him.
I was nursing a slight hangover and headache which was getting worse as the day passed. In spite of the food rationing of those days they set a table with a greater variety of food than I had remembered seeing in a long time but because I wasn't hungry I had to force it down while acting like it was the best food I ever ate. The last of it was a piece of pumpkin pie which I never cared for and when I got that down I must have overplayed my act because they shoved another piece at me.
Finally at about 2PM I told them since I would be hitchhiking I had to start heading back to San Diego. I really wasn't ready to head back but the man started apologizing for not being able to drive me to SD. Gasoline rationing was in effect and he only had a B card good for four gallons a week. He said he would drive me out to the highway and wait there with me until I got a ride. Daughter came along. What are you going to do, they were so nice and so sincere I decided I would just go on back to SD and finish up my 72 there.
The way things turned out I couldn't have made a better decision. Before a car stopped to pick me up they got my address and promised to write. I corresponded with mother and daughter throughout my entire Naval service and on into civilian life.
Two thirtyish women picked me up and as luck would have it the driver was going to San Diego. I sat in the back while they were engrossed in conversation ignoring me completely which suited me just fine. After bringing the other woman to an address in Laguna Beach the driver told me I could sit up front and that was the beginning of a beautiful friendship.
She provided a home away from home as long as I stayed in the SD area. I thought she was very attractive but at least twenty years older than me so there was never a romantic relationship but through her I met girls I could have never known were it not for her. She was deputized and was one of the women who checked ID cards at the then top night club in San Diego. This club had first class live entertainment and was packed every night of the week. At the time I was an ARM striker assigned to a squadron based either at North Island NAS or Ream Field with liberty every night, 48's almost anytime I wanted them and 72's occasionally.
I often visited her at the club and while she would never let me slip in she did introduce me to the camera girls one of whom took care of that situation. Bulbs were flashing almost continuously as these girls did a tremendous business. The photo lab was upstairs over the club where all the necessary equipment was available to develop the pictures which were either presented to the patrons or sent to any address in the country. Also available was the necessary equipment to produce and laminate an ID card.
With the help of the old guy in charge of the lab, one of the girls made a fake ID for me. I'm not exactly sure how they did it but it was a perfect replica of my original ID with the name and birthdate changed and the girls thumb print on the back. Now get this, we were all thinking 21 so instead of making my birthdate in 1922 which was all that was necessary to make me 21, they mistakenly made the date 1921. The old man said not to worry, people would be more inclined to believe I was 22 than 21. Actually I was only seventeen. He was right, no one checking the card ever doubted it but sometimes called others over to marvel that anyone 22 could look so young. Good living that's all.
Once I had the card my friend passed me through even though she knew I was seventeen. She was covered. What a gal, for years looking back on those days I sometimes wondered what might have or could have been had I made a move on her. On my last night in the states thinking I will probably never see this part of the country again I thought about but it but only for a minute. Sammie, you're with the angels now and as Bob Hope would have said, "Thanks for the memories."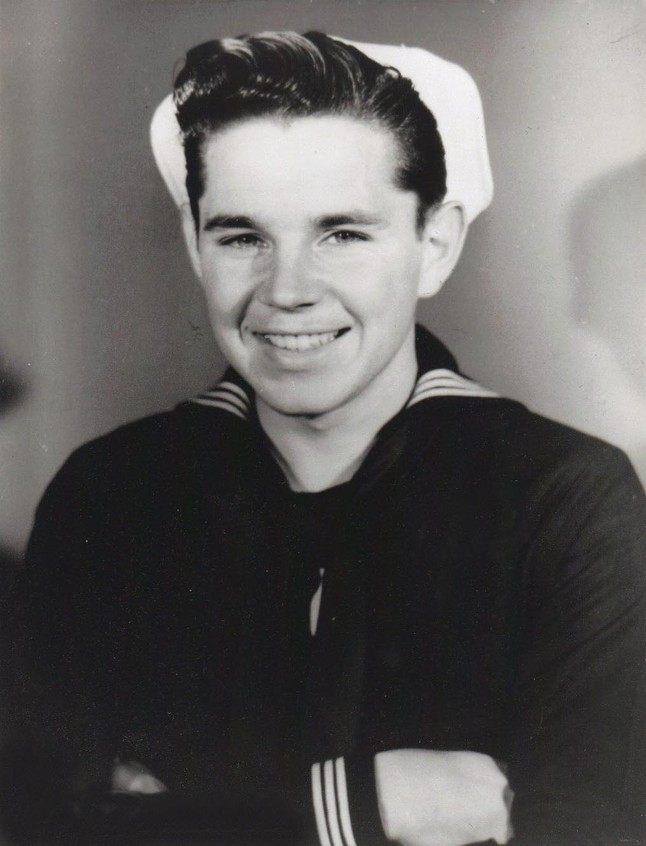 Before I left the states the old man in the lab made two 11x14 portraits plus five 8x10 gloss and five 8x10 matte copies packaged to send to "your mama", No charge.
Even though it was overrun with sailors, like that guy on SNL used to say;"San Diego was very very good to me". (more)
Postscript to that story, in February 1946 I was sharing the driving with my oldest sister from Washington DC to meet her husband in Chicago where they would make their home. I went in one of the bars in or near the Loop to get a drink. When the barmaid asked for my ID I was reminded this was my birthday and while the card (legitimate) showed I was 21 I was actually only twenty. Nevertheless, the sweet thing gave me free drinks until I left.
Administrator's note: Clicking on the photo will open it in a window to see it a bit larger.
Join the discussion of 72 Hour Liberty in the Story Discussions.