by Willie Lagarde
The year was 1938, I was a twelve year old student at St. Stephen's school for boys. Across the street was the girls school both run by nuns who were as tough as any drill sergeant and didn't know the meaning of "spare the rod" if its use was warranted.
The only talk of war was about fathers who served in WW1. None of us seventh graders could imagine in five short years many of us would be in uniform with some already in combat.
Among the girls attending school were orphans from St. Elizabeth's Orphan Asylum which was run by the same order of nuns. Back in those days there was no political correctness and institutions were called what they were.
During a time when boy and girl students were rehearsing together for a pageant, I came to know one of these orphan girls.
After school I would walk by the building she lived in and often she was there waiting by a window to wave at me. After graduation I moved away from that neighborhood and never saw her again but the sight of that girl in the window waving has stayed with me all of my life.
She was on my mind one day in May 1944 when I was scraping rust from spots on the starboard side of our ship which was scheduled for a camouflage paint job to be done later by shipyard workers.
We were working between the hangar and flight deck levels chipping and scraping rust before applying zinc chromate to the spots. When the chromate splotches began to take the shape of a letter I realized I had a chance to do something for Lillian. With my buddy helping, we began putting chromate on spots whether it was needed or not to form the letters "LC" perhaps fifteen feet high on the side of Yorktown.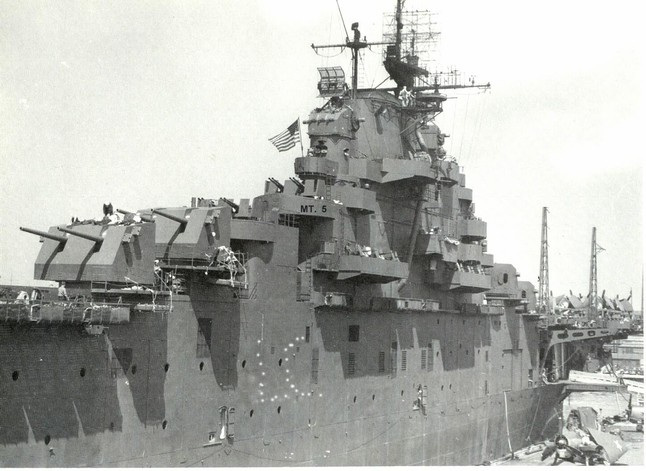 It was only visible for a couple of days before our ship was spray painted but for those two days Lillian's initials were center stage for all to see on the side of a warship of the line. In that time and in that war, no ship was more important than Yorktown in the whole US Navy.
I suppose most people who saw the initials thought is was just coincidental because no one ever said anything. I only wished Lillian could have known she was in my thoughts that day and she was happy wherever she was.
Discuss Lillian in the Story Discussions.