by Willie Lagarde
In June of 1951 I signed six month articles to ship out of Baltimore MD as quartermaster aboard a sea going tug MV G W Codrington on what would be my last sea voyage.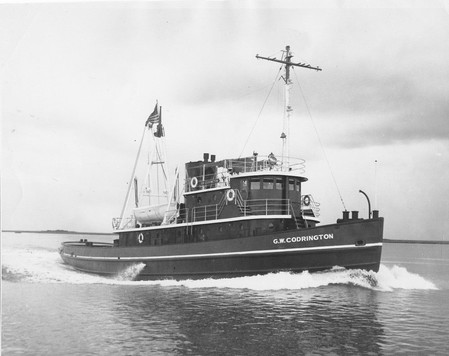 Destination was foreign but unknown. Before sailing an Air Force colonel came aboard to check our papers which had been previously "validated for emergency service" by swearing an oath we were not then nor had we ever been a member of the Communist Party and reaffirmed our loyalty to the United States. He wouldn't say where we were going except that it was north. He also said when we returned we should consider it a patriotic obligation to not divulge where we had been or what we had seen.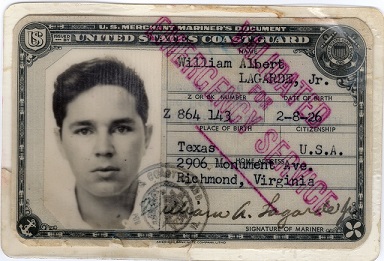 Leaving Baltimore towing two LST's that had been cut down to the tank deck we were told to steer due east after clearing Cape Charles, our point of departure. If anyone aboard knew our destination at that time I wasn't one of them and I was on the wheel. At sea our tow was strung out a half mile with 1500' between the LST's. We were capable of making seven knots with the tow and twelve without.
After several hours a plane appeared overhead and by blinker light and radio telephone we were told to steer for the Belle Isle strait into the Labrador sea and then north to Baffin Bay. It was here we finally learned we were going 760 miles north of the arctic circle to Thule Greenland and we were a part of a classified mission called "Operation Bluejay". We would be assisted as necessary by CG icebreaker Eastwind and later rendezvous with USS Monrovia for further instructions and whatever replenishment of fuel, food and water were necessary. We were unable to distill and produce our own fresh water.
Steering almost due north by gyro compass we watched day by day as the magnetic compass north indicator slowly drifted toward the west then southerly as we passed the magnetic north pole. Our nightime or period of darkness grew shorter until finally the sun never set.
None of us were prepared for arctic conditions and by default learned the three L theory of cold weather dress; light, loose and layered. Surprisingly the air temperature never fell much below freezing. We were told however, if we fell overboard we could only last about seven minutes before dying of hypothermia.
At one point we were ice bound for twenty days waiting for Eastwind to break us free. We lost tract of AM or PM.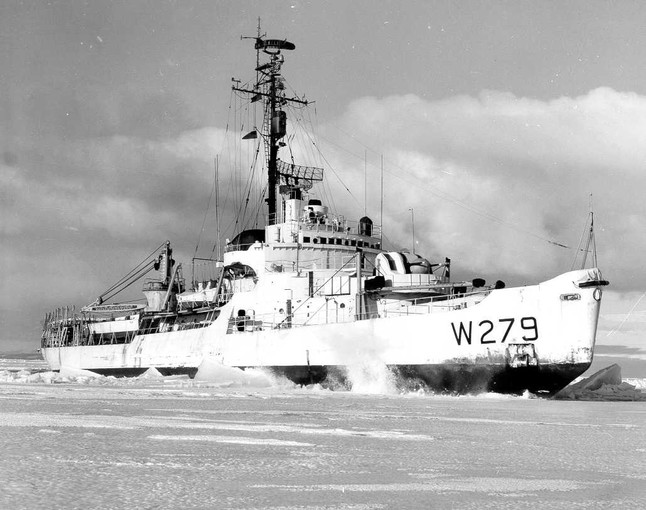 There was much speculation among the seventeen crew members on what was in the LST's and the concrete filled 20MM gun tubs with anchor chains placed about the decks. Could it be atomic weapons or other strategic ordnance?
We encountered many problems negotiating our tow between the icebergs and through the pack and sheet ice. Initially our captain told us to give the icebergs a one mile berth when they first appeared on radar. Before we reached Thule we were banging and shoving on them to make an opening for our tow which we had shortened up considerably.
At Thule we learned the LST's, which resembled barges, were to be used as finger piers. A base was under construction here that would be a part of the DEW or (distant early warning) line to detect anything flying over the pole from Russia.
Old demon rum was around; as soon as we anchored construction workers came aboard looking and offering fantastic prices for anything alcoholic. I was able to help out a little, parting with half of my meager personal supply of spirits.
We came back alone, sometimes ramming and breaking our own way into leads and weathering at least one storm with solid green water crashing against the wheel house windows. Staying on one's feet required one hand on the wheel and the other on a hand rail. In the worst of the storm there was only one man standing not heaving his last meal. Proud to say it was a Yorktowner who had taken a lot of BS from some of his crewmates about carriers being floating USO's.
On the wheel passing through Verrazano Narrows heading for Kill Van Kull and Bayonne NJ none other than Queen Mary loomed ahead with pilot aboard heading for lower bay and the Atlantic ocean. I didn't wait for an exchange of horn signals, and made my intentions known early on getting out of her way; later stepping out of the wheel house to return a wave to many of her Europe bound passengers who were already frolicking on deck.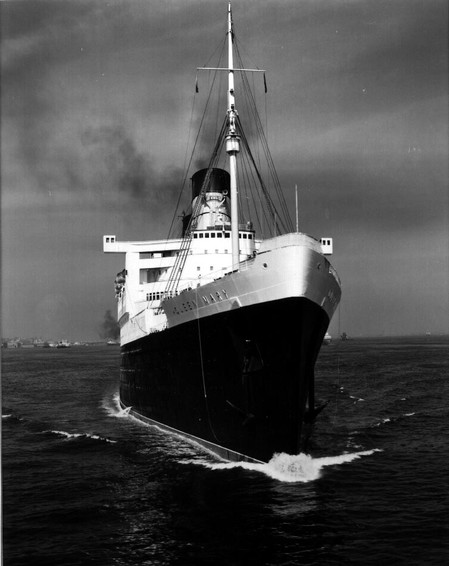 At the end of this almost three month trip I paid off and headed home.
Remembering what the colonel told us at the beginning of the trip, I couldn't help but wonder, did anyone actually believe it was possible to keep the Russians from knowing what we were up to. At any rate I didn't discuss the trip until an article with photos appeared in Life magazine.
This was the most interesting and only trip I ever made that while still at sea one could go over the side and walk around. We did this several times when we were ice bound.
Now over a half century later as I write this account I am happy a shooting war never developed between two old allies who fought together and defeated the axis powers in WW2.
I am happy as time runs out for us, ordinary people like myself and my counterpart in Russia never had to fight against each other and will not go to our graves as mortal enemies.
Join the discussion of Thule Greenland in the Story Discussions.