by Willie Lagarde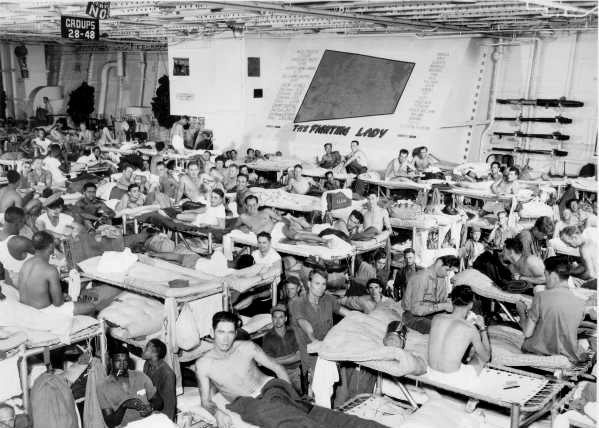 It was in late 1945 and Yorktown, now a part of "Operation Magic Carpet had just returned from Guam with her first load of service men. The crew had previously been reduced to about five hundred men and bunks had been installed on the hangar deck giving her the capacity to transport around five thousand passengers Since I was one of the younger single crew members I didn't have enough points for discharge. On the trip out, with all the empty sleeping compartments, it seemed almost like a ghost ship. On the return it was like living in an Army barracks.
One of the most depressing experiences of my Navy career was when I was told my point total was a half point short and I would have to make the next trip down to the Philippines. Only one of my close friends was still aboard. We soon realized we would be spending our third Christmas and New Years aboard ship. Along with some of the new crew members we devised a plan which would at least provide us with some Holiday "cheer" during the boring and dreary trip across the Pacific. No more sunrise GQ, gun watches, bugle blaring, flight quarters, hangar and flight deck bustling with activity, no planes and no sound of airplane engines.
One of the workers at Mare Island Naval Shipyard offered to deliver a case of whiskey anywhere we designated in the yard. We pooled our money and told him to get two cases and put them in the trash bin on the dock. We gave him $100 and he delivered the whiskey as planned. Under the ruse of emptying GI cans we were able to get the whiskey aboard and stashed in our lockers. In no time word got around the ship and we were pestered constantly to sell a bottle here and there. We were determined to keep at least one bottle for New Year's Eve. That night about five us gathered in a small compartment with a closed hatch in the center of the deck. We had brought a jug of Coca Cola and some ice and as we prepared to mix a few drinks someone knocked the bottle off the hatch and broke it. The label held the bottle together saving about two-thirds of the contents and rags were used to sop up some of the spilled whiskey which accumulated in a small depression in the deck.
Our last New Year's Eve at sea wasn't a complete bust. Spending my third Christmas and New Year aboard the Yorktown when I thought I would be going home was disappointing. I hadn't adjusted our new role. Only one of my close friends was still aboard and even though he was probably my best friend, life aboard our ship was different. We weren't a warship anymore and where we had grown accustomed to the sights and sounds of an aircraft carrier now there was mostly silence. We befriended some of the new crewmen but since most of them were fresh our of boot camp we had little in common with them The entire air department was gone as were the marines. Most of the sleeping compartments were empty. Our routine was broken in that we no longer stood gun watches although if I remember correctly, we did keep enough gunners mates in the crew to keep the guns maintained. The only time we heard any of our guns during those trips was when the 20 MM's were used to explode floating mines we encountered once or twice.
Join the discussion of Magic Carpet in the Story Discussions.