In 2008 at the annual USS Yorktown reunion, Willie Lagarde was given an award for contributing so many interesting and accurate stories about the years he served aboard the Fighting Lady.
Shown with him in the photo are USS Yorktown Association Chairman Robert Dorsey and CEO of Patriots Point Museum Adm James Flatley.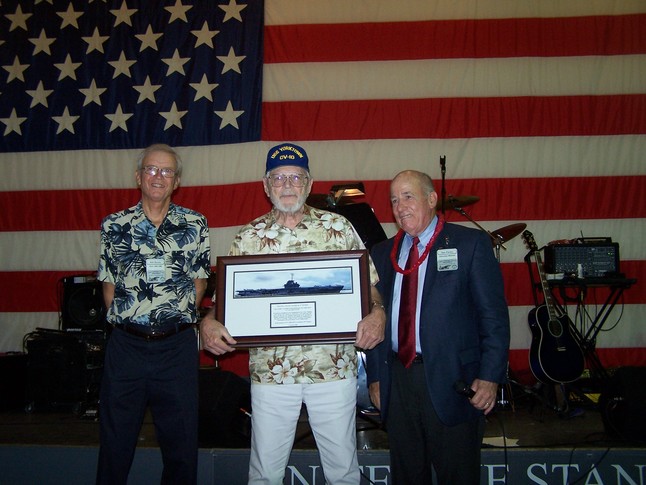 WILLIAM A. (WILLIE) LAGARDE JR., 2nd DIVISION
"SEA STORY" AUTHOR EXTRAORDINAIR, USS YORKTOWN
CV-10 ASSOCIATION
Presented in recognition of your distinguished service to the "Fighting
Lady" and her crew, both in war and in peace. Your captivating tales
about your ship and your shipmates being posted on the Association's
Website repeatedly touch the hearts and rekindle the imaginations of
the entire CV-10 family. "Willie's Stories" constitute an invaluable
contribution to the proud history of USS YORKTOWN.
On the occasion of USS YORKTOWN Association's 60th Reunion
11 October 2008
Join the discussion about The Award in Story DIscussions.